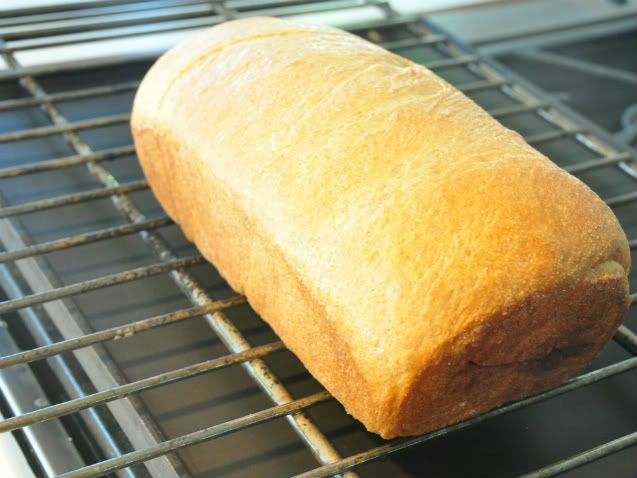 Not just your ordinary loaf...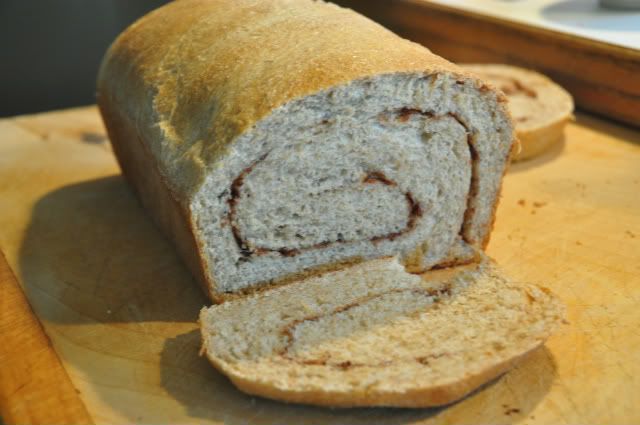 Whole Wheat Cinnamon Swirl Loaf!
Nomtastic!
I would say this is healthy, but then I'd be betraying you when I give my choice serving suggestion, which is to slather a warm slice up with butter and serve with extra cinnamon sugar! Mwahahahah >:)
Here's the recipe! It's easy! And way impressive. Make it now, gogogogo!
Whole Wheat Cinnamon Swirl Bread
Author: Erin Alderson
Prep time: 2 hours
Cook time: 45 mins
Serves: 16 slices

Ingredients
1 1/2 cup warm water
1 package yeast
1/4 cup honey
2 tablespoon sunflower oil
2 teaspoon salt
2 cup whole wheat flour
1-2 cup unbleached all purpose flour
Filling:
2 tablespoon organic cultured butter
1/3 cup sucanat
3 tablespoon cinnamon
2 teaspoon nutmeg

Instructions
Start by place water, yeast, and honey in the bowl of stand mixer. Stir with a wooden spoon to dissolve yeast and honey, let sit for 5-10 minutes or until mixtures begins to foam. (If this does not happen your yeast was either old or your water was too cold or hot.)
Once yeast is ready, add oil, salt, 2 cup of the whole wheat flour. Begin to knead with dough hook, adding the rest of the whole wheat flour and white flour as needed until the dough pulls away from the side of the bowl (dough should still be kind of soft, just not sticky.) Continue to knead for 10 minutes.
Once done kneading, spray lightly with oil and set in a warm spot and spritz with water. (I usually turn my oven on to 200? and then turn off to use as proofer) Let dough rise until doubled in size- usually about an hour.
Turn dough out and with a rolling pin, roll into an 8 by 12 rectangle. Brush the dough with butter and sprinkle sucanat, cinnamon, and nutmeg over entire surface. Roll, starting with the edge closest to you, into a loaf and place in a lightly sprayed 9×5 loaf pan. Again, place in warm spot and let rise until dough in size-this is usually about 45 minutes.
Heat oven to 375˚, spray loaf lightly with water, sprinkle sugar on top, and spray with water again. Bake for 45 minutes or until bread is golden on top and sounds hollow when tapped on the bottom. Let cool
(nuh uh. don't you do that.)
and slice.