Folks, get out your cameras. This is the moment we've all been waiting for, but not really because I just came up with the idea, like, five minutes ago. Readers, we are about to embark on a journey of sorts. I will be leading a virtual tour of the many flavors of Seattle and surrounding area. But mainly Seattle because, well, it thoroughly kicks Tacoma's butt when it comes to food. Not to say that I'm straight up dismissing Tacoma from this tour; there are a few eateries definitely worth mentioning.

Okay, so yes, I know that
http://www.cakespy.com/
has been doing this for awhile, and beautifully at that. But I think it's helpful to have more than one perspective. Like my suitees and I were discussing today, there's always that one schmuck who gives bad reviews on Yelp because they didn't get a joke made by their waitress. Let me just clarify though: Cakespy is most definitely not a schmuck. In the least bit. In fact, from reading her blog, she seems like a pretty dang wonderful person. I'm just wanting to provide a look at some good (and sometimes not so good) places to eat in the area from the perspective of an average college student who likes herself some good food (right, who doesn't?).

This whole "Seattle flava flav tour" thing isn't really that big of a deal. It's just more fun to write about it like it is a big deal. Really though, all of this is just me announcing my decision to start incorportating reviews into my blog. Woooo!

So with that out of the way, our tour begins on Capitol Hill in Seattle with Po Dog and High 5 Pie!!

Po Dog is a hot dog joint in Seattle with two locations, one in the U-District and one on Capitol Hill. My family and I stumbled upon the one on Capitol Hill when we were going to the Globes show at Neumos last weekend.. good food, good drink, good music, good friends, good family. GOOD WEEKEND. :):) :))0:):);;)


Der Globes... [they're playing at Sasquatch this year, btw!]

Po Dog website:
http://podogs.com/

Man.. this place was great. The Capitol Hill location has that "hidden gem" sort of aura about it. Definitely not a looker on the outside but super cozy and mod-hip on the inside with its bold skull-houndstooth wallpaper and giant pixelated neon prints on the wall, this place fits right into the trendy grunge scene of Capitol Hill. Right down the block from Neumos, it seemed to be a hit with all the concert-goers and other late-night wanderers. Best hot dogs I've ever tasted. I got the Seattle Dog, which was pretty simple- cream cheese and scallions. It was delicious though, and went nicely with a Red Stripe. My only request would have been to have more scallions piled on, cause they made a perfect flavor combo with the cream cheese, the warm, crossaint-like bun, and the deliciously salty kosher dog. My dad got the Morning Glory Dog with bacon, eggs, and cheese piled on top. This was absolutely delicious. I mean, how could it not be with the classic bacon and eggs alliance? Especially since it was reppin' the Tillamook cheddar. I also highly recommend the South of the Border Dog, and the Chicago Dog. You know what? They're probably all good. So I'll just go ahead and recommend just going to Po Dog and seeing for yourself if you haven't already. They also have some killer shoestring fries. And if you don't like hotdogs.. then.. you're out of luck. And you're weird. So, you shouldn't go there. I hear they don't like weirdos.

Oh and I didn't take pictures at Po Dog cause I was way too stoked on meeting an Ourada cousin that I didn't know existed. He was working behind the counter there! So crazy where life leads us sometimes.

Mooooving on.
Our next stop on the tour is High 5 Pie!
I have to admit, I walked into this place with really high expectations, which is never a good thing when trying something new. So, as it goes, expectations were not met; but I'm not writing it off completely because I think it could be that I just ordered the wrong thing. This place had a huge assortment of goods to choose from, which was a definite plus. You can buy pies in at least four different forms at this place: they had hand pies, tiny little pie bites, slices of pie, pie pops, pies in jars.. I must say- it's pretty dang cute. And they have pies to serve any flavor preferences, whether it be sweet, savory, or the risky (but sometimes pure gold) sweet-savory hybrid.
In this case, it wasn't pure gold. I'm an avid fan of apple and cheese, so I ordered a slice of their rosemary apple cheddar pie. The crust was pretty tasty. Nice and buttery, perfect flakiness, not over or undercooked. As for the filling.. I can't think of one good thing to say about it. The cheese wasn't even melted, it was just.. chunky. Like when you freezer burn cheese and it keeps its solid form when you heat it up.. ugh. I don't think they used fresh rosemary, because it was really brittle and it poked my gums :( The flavor combo just wasn't that great. I can imagine this might have been better with a creamy brie filling or maybe they could have just melted slices of cheddar on top of the crust, but the tiny cheese shreddage in the actual filling was a total fail.

I also tried a savory mini pie bite type thing. This was good. It was like a quiche sans eggs, with only the tasty filling bits left over. I can't actually recall what was in it though. But yeah- really good stuff. I wish it had lasted more than two bites :/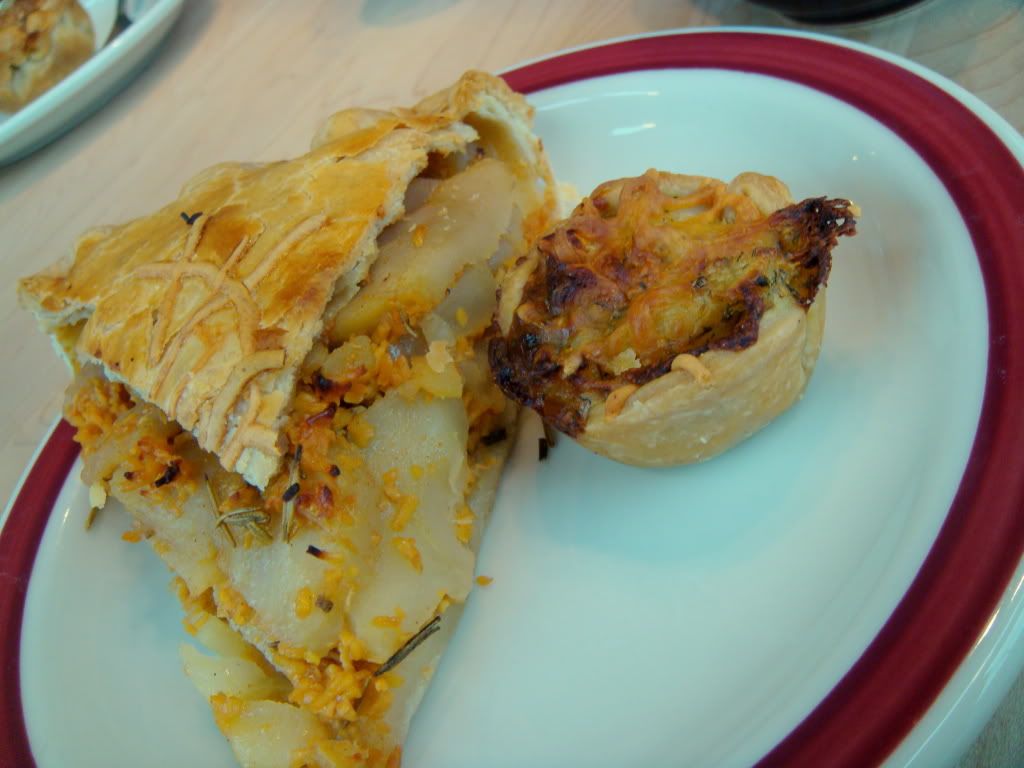 Antho got a spinach feta hand pie (I think High 5 called it a "flipside", which Antho said was basically just their hip name for an empanada, haha o_o ) Either way, the concept sounds delicious, doesn't it? I mean, you really have to try hard to mess up a pastry filled with spinach and feta. Which I guess is exactly what High 5 Pie did. Antho said he could barely taste the feta, if at all-- and I could see what he meant. Honestly, it looked like a can of spinach poured directly into a pie crust. A really tasty pie crust. So, tastewise, his review was mixed. Said it was okay, which I didn't know whether to interpret as "I just got ripped off and I'm trying to make the most of an overpriced purchase" or "it's not good, not bad."

He also got a "cutie pie" (daw), which was also a miniature pie of sorts, about the diameter of a baseball. And I admit, it was scrumptious. Apple filling with a crumble topping..simple, but good enough to knock up my 4/10 review to a tentative 5/10. I'd go back to try the lavender cream pie but probably only during happy hour.

As for the visual aspects of the place, I have to give credit. It's super cute. They had a modernized old-school diner thing goin' on, with sassy mint-colored accent pieces, high ceilings, and a big round communal table at one end, which I thought was pretty neat.


The service, however, was less than okay. The person who helped me couldn't even give a good recommendation, didn't know what her customers liked- she hardly knew what she liked, for goodness' sake. On top of that, my coffee wasn't even hot. And on top of that, major buzzkillage ensued when I was handed my pie, also lukewarm at best, after having been offered to have it heated up for me. Fruit pie is seriously more enjoyable when eaten warm. And I have to say, these pies really needed that extra boost.

Anyway, here's the inside of the shop portion. They had a cool window-door at the opposite end of the shop where you could look in and watch them making pies.

So to touch back and wrap things up...
I highly recommend Po Dog Hot Dogs:
7/10 for value. But really it just depends on whether you're willing to buy a $6 hot dog.
But no high fives for High 5 Pie. I hear and read that there are other pie places in Seattle that could seriously show these guys who's boss. We shall see!! Eventually!
See you next time on Las Flava Flavs de Seattle and thanks for reading!