Ohhhhh baby do you know what that's worth? OHHH HEAVEN IS A PLACE ON EARTH!!!

And it comes in the form of a chewy coconut macaroon surrounded by a crispy meringue shell..aka Kokosmakronen (German-style coconut macaroons)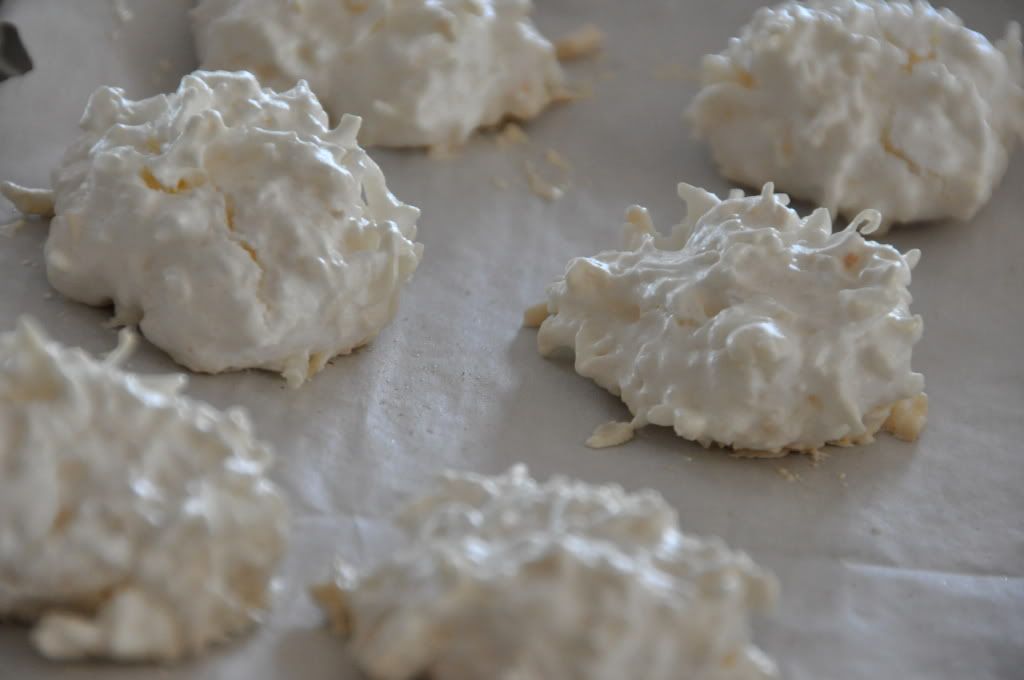 A couple tips to start out with: Don't use sweetened coconut.. the cookies will end up way too sweet. Also, cut down to 1/2 to 3/4 cup white sugar.
I highly recommend toasting the coconut before. Toast until the flakes are golden. That'll give you a really nicely colored macaroon and it will help to bring out delicious coconutty flava flav (I didn't toast it enough that's why my cookies turned out so white)
Don't overcook or they'll be dry all the way through and you won't be able to experience the delicious chewy center that makes these so good.
These are super easy and super cheap so you should totes make these if you like sweet coconut stuff!


This recipe makes 3 dozen Kokrosmakronen
Ingredients
2 3/4 cups flaked coconut, toasted
4 egg whites
1 cup white sugar
1 teaspoon ground cinnamon
1/2 teaspoon almond extract

Directions
1.Preheat the oven to 250 degrees F (120 degrees C). Line cookie sheets with parchment paper.
2.In a large bowl, whip egg whites with an electric mixer until stiff enough to make a mark through with a knife. Gradually sprinkle in the sugar, cinnamon and almond extract while continuing to mix on low speed. Fold in toasted coconut by hand. Spoon or scoop onto the prepared cookie sheets.
3.Bake for 20 to 25 minutes in the preheated oven, until cookies are dry and peel of the paper easily. Cool on wire racks and store in an airtight container at room temperature.

To toast coconut: Spread flaked coconut out on a cookie sheet and bake for 5 to 7 minutes in a 350 degrees F oven. Yum-mah!