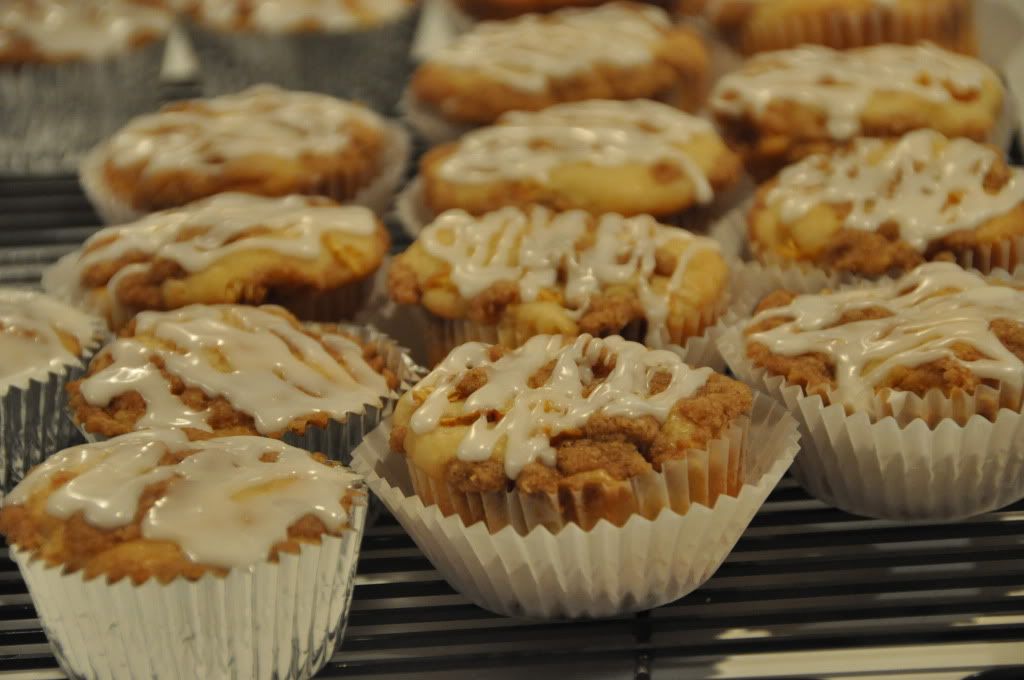 These were best when they were still hot out of the oven, especially with the amaretto icing being all melty-like. On a scale of 1-1o I'd give this recipe a 7. They were good but I don't think I'd use this particular recipe again. The whole apple and amaretto concept is great though, so maybe I'll experiment with that again sometime in the future.

Now that I look back at recipe, maybe the fact that this came from Cooking Light is the reason they didn't turn out so great. I mean, really. A light cupcake recipe? Who are we kidding?

So here's the recipe. And here's where I got it from:
http://traceysculinaryadventures.blogspot.com/2010/10/amaretto-apple-streusel-cupcakes.html
The only change I made is that I added extra amaretto to the icing, to give some extra-almondy oomph.

Amaretto Apple Streusel Cupcakes
from Cooking Light


Streusel
2 tablespoons all-purpose flour
2 tablespoons light brown sugar
1/4 teaspoon ground cinnamon
2 tablespoons butter, chilled
2 tablespoons sliced almonds

Cupcakes
6.75 ounces (about 1 1/2 cups) all-purpose flour
1/2 teaspoon baking powder
1/4 teaspoon salt
1/4 teaspoon baking soda
3/4 cup granulated sugar
1/4 cup (2 ounces) reduced fat cream cheese, softened
1/4 cup butter (4 tablespoons), softened
2 tablespoons amaretto
1 teaspoon vanilla extract
1 egg
1/2 cup reduced-fat sour cream
1/4 cup milk
3/4 cup finely chopped Gala (or your favorite - I used Macintosh) apple
1 tablespoon all-purpose flour

Glaze
1 cup confectioners' sugar
4 teaspoons 2% milk

Preheat oven to 350 F. Line a 12-cup muffin tin with paper liners.

Prepare the streusel by combining the flour, brown sugar, and ground cinnamon in a small bowl. Cut in 2 tablespoons butter with a pastry blender or 2 knives until mixture resembles coarse meal then stir in the almonds. (You could also do this in a mini prep, which I find easier, even if it means more dirty dishes.) Place the streusel in the fridge while you make the cupcake batter.

In a medium bowl, whisk together the flour, baking powder, baking soda and salt. In the bowl of a stand mixer fitted with the paddle attachment, cream the butter, cream cheese and granulated sugar on medium speed until fluffy. Add the amaretto, vanilla extract and egg to the bowl and beat at medium speed until well blended. Combine the sour cream and milk in a measuring cup and whisk until completely blended. Alternately add the flour mixture and the sour cream/milk combo to the mixer bowl, beginning and ending with the flour mixture and beating only until the dry ingredients are just incorporated.

Toss the chopped apple pieces with 1 tablespoon of flour in a small bowl. Fold the apple mixture into the batter with a rubber spatula. Divide the batter evenly among the muffin cups.

Remove the streusel from the fridge and sprinkle evenly over the cupcakes. Bake for 20-24 minutes or until a toothpick inserted in the center comes out clean. Cool in the pan for 5-10 minutes on a wire rack, then remove the cupcakes from pan to cool completely on the rack.

To prepare the glaze, whisk the confectioners' sugar and milk in a small bowl until smooth. Drizzle glaze over cupcakes.

Makes 12 cupcakes