Um.. hi guys. I'm just going to start out by saying this post was constructed with a good deal of hesitance. But I decided to do it with the mindset that heck, you're going to see this side of me eventually if you haven't already. And a certain person in my life said that they'd be angry if a certain picture never turned up on my food blog when it finally came into being.
So.. yeah, it's a little embarrassing. You see, I usually don't pose with my food. Sometimes it turns out nice...
But usually it's something that should just be avoided altogether..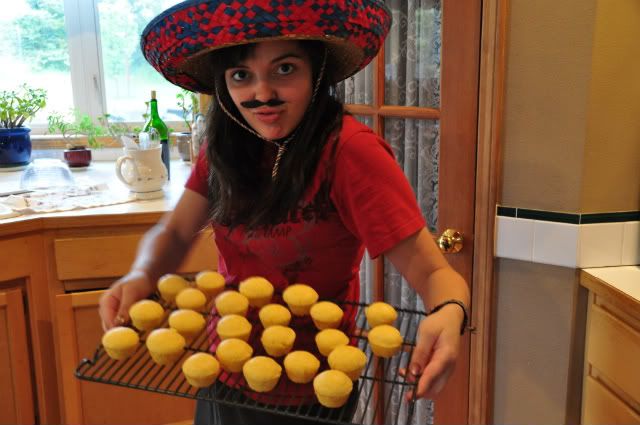 See what I mean? So.. there you have it. The real me, uncensored, and yes: very very Mexican, complete with a stache.
Or maybe more Spanish.
Can you see the resemblance?
Aaaanyway...those thumbprint cookies pictured above were made with a simple shortbread dough and an assortment of fruit jams we had in our fridge. I think I used a raspberry and a strawberry jam my mom made this summer (made with love and magical mom-powers => delicious), and the others were a mixed berry jam and an apricot jam. Despite the delicious magic mom-power jam, I have to say that, for these purposes, my favorite was the apricot jam. The flavors just really agreed. I can't really say more than that except for that these are the perfect cookie. I mean, really. These quick and easy treats are light and buttery, crumbly and melty-in-your-mouthy, and the jams add the perfect amount of sweetness.
Because I don't remember what recipe I used for those, I'll share the links for some other really tasty-looking versions that I've been wanting to try...

These ones from over at Cozy Kitchen are topped with salted caramel. Mmmm...
http://www.acozykitchen.com/salted-caramel-thumbprint-cookies/


And these ones from The Noshery have guava paste on them:

http://thenoshery.com/2009/11/02/mantecaditos-con-guayaba-shortbread-almond-cookies-with-guava/
That would be a fun new ingredient to experiment with!
Shortbread is a good go-to cookie for just about anything, given it's versatility. You can do just about anything with it.. dip it in chocolate, top it with fruit, fill it with nuts, mix it with different extracts, cut it into cool shapes, powder it with confectioners sugar, use it as a crust... the list goes on. You just can't go wrong here because the dough is chock-full of sugar and butter, so whatever you make will end up being uber tasty :)