I hate to admit that once in a while I'm one of those people who just can't leave a good thing as it is. I doctor. And on top of that, I usually doctor without having any idea what I'm doing. So one night I made some absolutely delicious, melt-in-your mouth shortbread cookies with a pinch of granulated sugar sprinkled on top for the perfect amount of sweetness. As the story goes, even after tasting them and knowing how good they were, I wanted them to be prettier, to be more snazzy, more flashy!! With my hands twitching as I resisted the urge to reach for the decorating bin in my closet, I finally made a compromise with myself. If I was going to decorate, it had to be with purpose. So with that mindset, I decided to make these tres chic black and white cookies, like the ones you see in coffee shops and cafes.


Here they are before they went on the operating table. Unadulturated, and perfectly fine.



For the 'chic'afication process, I ended up dipping them in dark chocolate and vanilla candy melts. The candy melts were surprisingly tasty and really easy to work with. And of course the dark chocolate was, well.. dark chocolate. Mmmmm <3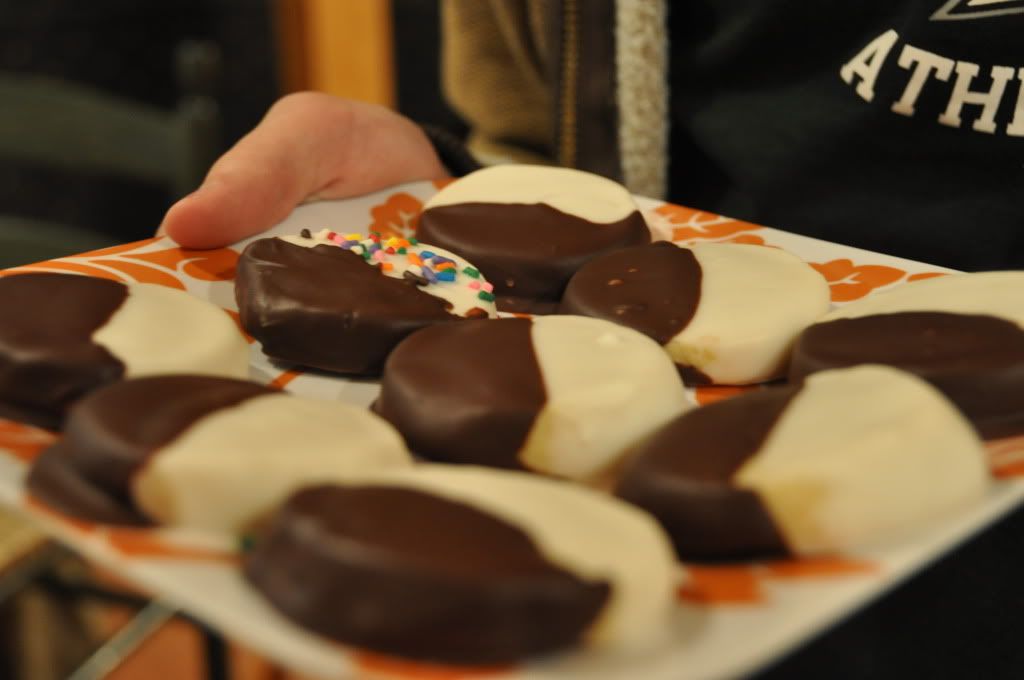 And couldn't resist the totes adorbz standard...





So.. yeah, not too bad!!

Here's a Basic Vanilla Shortbread recipe by Ina Garten from The Barefoot Contessa Cookbook. I know I've probably said this already, but don't be afraid to experiment with this recipe. Shortbread dough is probably the most versatile cookie dough out there and there's so many different kinds of mix-ins you can play around with!

This recipe makes about 4 dozen small shortbread.

■3/4 pound (1 1/2 cups or 3 sticks) unsalted butter at room temperature
■1 cup sugar
■1 teaspoon pure vanilla extract
■3 1/2 cups all-purpose flour
■1/4 teaspoon salt

1.In the bowl of an electric mixer fitted with a paddle attachment, mix together the butter and sugar until they are just combined. Add the vanilla.
2.In a medium bowl, sift together the flour and salt, then add them to the butter-and-sugar mixture. Mix on low speed until the dough starts to come together.
3.Dump onto a surface dusted with flour and bring everything together with your hands. Divide dough into four pieces and flatten slightly. Wrap each piece in plastic and chill. Bake at 350 degrees for as long as needed depending on the size of your cookies.